Our popular programs are now delivered online! Below are links to regular events, like children's storytimes, and to special events, like Zoom talks with celebrated authors and memoir writing.
Let us know how we are doing!
Complete a quick survey to give us feedback.
Have you read a good book? Submit a book review.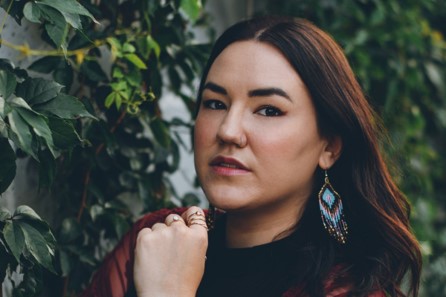 Author Event - Karen McBride
Karen is Algonquin Anishnaabe from the Timiskaming First Nation in the territory that is now Quebec.
Her debut novel, Crow Winter, was shortlisted for the Ottawa Book Awards, the PMC Indigenous Literature Award, and the Sunburst Award for Canadian Literature of the Fantastic.
CBC Books named Karen as an author to watch in 2020.
She currently lives in Ottawa with her sister and their handsome little dog, Oscar.
Make this a Spring Break to remember!
We will have a range of registered online events and some follow-along activities that kids and families can do at their own leisure.
Registered Events:
Take Home Activity Kits
Thank you to everyone who picked up an Activity Pack. We are now out of Activity Packs. However, you can still download the Activity Book and use supplies you have around your home.
Kids can pick up a free activity kit with materials and craft items that can be used to follow along with videos posted on the Library's website and YouTube page.
These kits will be available at both our Main and St. Paul Branches beginning April 6 on a first-come-first-served basis.
They include:
Craft supplies like googly eyes, pipe cleaners and pompoms to create your own fantasy creature based on the book "The Fabled Stables"
Light up LED card making supplies to make your own card
A letter writing kit that includes an envelope and postage stamp
DIY sleep mask supplies for your own virtual PJ Party
An activity booklet with colouring pages, word searches and more!