We are pleased to offer private study rooms, a digital media lab and meeting rooms.
Study Rooms and Digital Media Lab information:
Can be reserved up to two weeks in advance through a booking calendar, or by visiting or calling the Library at 519-756-2220 ext. 5
Can be booked for 30-minutes up to two hours
Bookings require a Brantford Public Library membership
Reserve a Study Room or our Digital Media Lab with our online room booking tool or call 519-756-2220 ext. 5.
Meeting Rooms
Our meeting rooms are listed below. Submit a request to book using the online form. Once your form is submitted, we will call you to confirm the booking details and payment.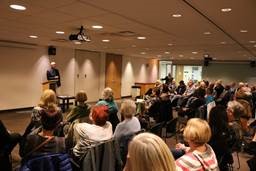 Auditorium - Full
125 person capacity
PC, projector and screen
Multiple set ups available
For Profit Rate: $300 (full day) $210 (half day/Sunday)
Non-Profit Rate: $120 (full day) $85 (half day/Sunday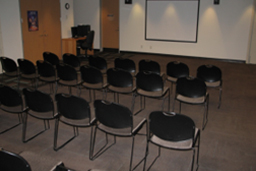 Auditorium - Half
60 person capacity
PC, projector and screen
Multiple set ups available
For Profit Rate: $275 (full day) $190 (half day/Sunday)
Non-Profit Rate: $110 (full day) $75 (half day/Sunday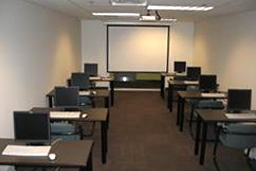 Computer Lab
Nine computer stations with Windows 10
Overhead projector and screen
For Profit Rate: $185 (full day) $130 (half day/Sunday)
Non-Profit Rate: $75 (full day) $50 (half-day/Sunday)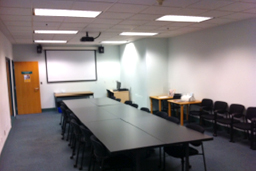 Community Room
22 person capacity
PC, projector and screen
Multiple set ups available
For Profit Rate: $250 (full day) $175 (half day/Sunday)
Non-Profit Rate: $100 (full day) $60 (half day/Sunday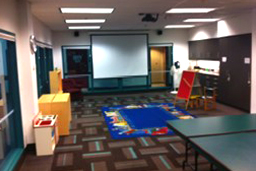 Children's Program Room
22 person capacity
PC, projector and screen
Multiple set ups available
Not available to for-profit organizations
Non-Profit Rate: $75 (full day) $50 (half day/Sunday