Log your Reading for a Chance to Win!
People of all ages can log their reading July 4 to August 26 with prizes for kids, teens and adults.
Read for your Ward Details
This summer, it's ward versus ward in Brantford's ultimate summer reading challenge!
The Read for your Ward contest is in conjunction with our regular reading challenges for kids, teens and adults. We want all of Brantford to read this summer!
It's easy to participate.
From Monday, July 4 to Friday, August 26, people of all ages can log their reading through an online form, our ReadSquared app, or by visiting the Library. When submitting, just confirm what ward you live in.
We'll have weekly prizes and grand prizes for each age group, plus additional prizes for people living in the ward that is leading that week. The ward that has read the most by the end of summer will get an extra special prize - a private movie screening at the Cineplex in Brantford!
The more you read, the more chances you have to win and the better your ward will do!
This page will be updated weekly to show the leading ward.
Join the Library today to get access to thousands of books, eBooks and audiobooks. It's free to join!
This program has been supported by a grant from SC Johnson.
Support Brantford's Read for Your Ward - get a yard sign!
Tell your friends, tell your neighbours and get reading to represent your ward.
Beginning the week of June 13, people can visit either Library location and pick up a 24x18 yard sign they can display on their front lawn or in their apartment window.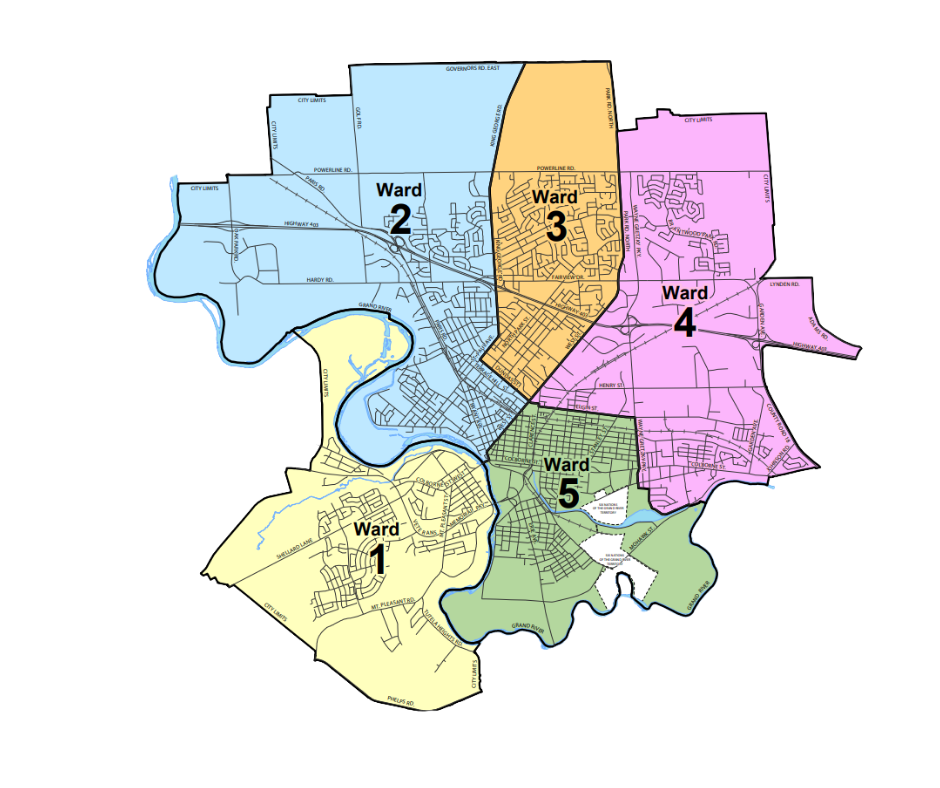 Brantford Ward Maps
Click the text in the grey bar for a large image of Brantford's Wards.
Or, search your address using this online tool. Our staff are also always happy to help.
---
Summer Reading Age Groups and Prizes
These programs have been supported by a grant from SC Johnson.
TD Summer Reading Club (ages 0-12)
Weekly prizes:
Gift cards or passes to Angel's Diner, Dairee Delite, Earl Haig Family Fun Park, Twin Valley Zoo, Kidtastic Adventures, Wayne Gretzky Sport Centre, Cineplex and Crock a Doodle Brantford. Plus an ice cream cake donated by Dairee Delite, and nearly 50 books!
Grand Prizes
10 Curiosity Boxes!
Teen Summer Reading (ages 13-17)
Weekly Prizes
Two $25 Indigo gift cards
Grand Prizes
Three $75 Indigo gift cards
Adult Summer Reading (18+)
Weekly Prizes:
A personalized surprise book kit and a $25 Indigo gift card.
Grand Prize:
Ten gift baskets with items from local businesses, plus a $50 Indigo gift card.
Bonus: Prizes for the winning ward!
Some more incentive for your ward to read the most!!
Every week, we will draw an extra prize for people living in the ward that is in the lead.
Plus, we'll have a year-end celebration for residents living in the ward that reads the most - a private movie screening at Cineplex Brantford.
---
Looking for something to read?
You don't have to come and browse Library stacks to find items to read.
Check the below options designed to make it easy for you to find your next read (or listen!).
Also, see our summer staff picks for adults and staff picks for children.